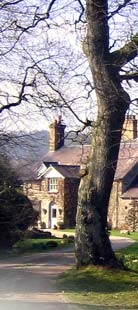 Accommodation Available Locally
Llangollen Hostel
www.llangollenhostel.co.uk/
tel: 01978 861773
The number after each hotel name is its approximate distance in miles from where the course will be held.
Holiday cottages
www.carolscottagesinwales.co.uk
tel: 01490 460592
Cilgwri b&b (4)
Glanrafon
www.cilgwri.com tel: 01490 460554
Please ring for prices

The Old Rectory B&B(3)
Clocaenog, Ruthin
Please ring for prices
www.oldrectoryclocaenog.co.uk
tel: 01824 750740

COURSE AVAILABILITY
For more info contact Phil or Karen on:
Phone: 01490 460 611
Mobile: 0789 149 4341
Email: phil@chainsawtraining.com
Bookings are currently being taken for:
SITE UPDATED 17-1-18
I will travel anywhere in the UK to deliver courses for 4 candidates. Travel expenses are 50p per mile.
Full equipment hire is available (everything from PPE to chainsaws and sharpening tools).
For more information please call Phil or Karen on 01490 460 611 or email phil@chainsawtraining.com