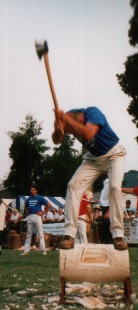 Axe Racing
The Gwynedd team is one of several clubs across the country who demonstrate and compete at shows throughout the summer. Some of the main competitions are held at the Royal Welsh Show in Builth Wells, the Devon County Show, the Royal Show and the New forest Show.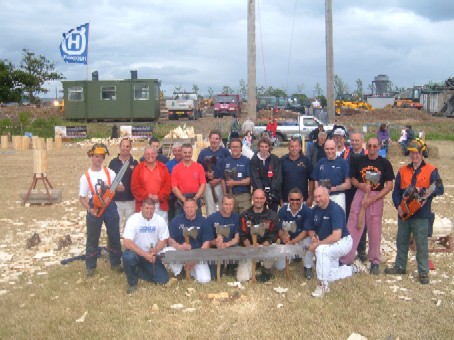 Phil is a member of the Gwynedd Axe Racing Team.
Axe racing or wood chopping is a sport in which competitors chop or saw through 30-50cm logs against the clock and each other. In developed as a sport in Australia and New Zealand in the 19th century where logging was a major industry. The loggers and bushmen would gather at fairs and challenge each other in competition, using the skills and techniques of their everyday work.
The Austalian Axeman's Association was founded in the 1880s and the sport has continued to flourish, spreading to Canada, the USA and more recently, to Britain.
Axe Racing is a sport which requires precision and stamina and, unlike most physical sports, it can be pursued at the highest level for a long period of one's life. If you remain fit and healthy, there is no reason why you still can't compete and win when you are past the age of 70!
The axes and cross cut saws used for racing are hand made in Australia and New Zealand. They are precision ground, polished and honed to a razor's edge. A new axe costs £150 - £200.
| | |
| --- | --- |
| | Phil winning a two board tree-climbing event at the WoodFest in St Asaph, North Wales, June 2005. |
| | |
| --- | --- |
| Standing block - this event simulates the felling of a tree. The block is held vertically in the stand and blows are made with the axe into the side | |
| | |
| --- | --- |
| | Underhand - the log is held horizontally in a frame simulating the conversion of a felled tree. The axe man stands on the log making blows with the axe between his feet |
| | |
| --- | --- |
| Cross cut sawing - a thin disc is sawn from a log held horizontally usually by two people, but it can be done by one person | |

COURSE AVAILABILITY
For more info contact Phil or Karen on:
Phone: 01490 460611
Mobile: 0789 149 4341
Email: phil@chainsawtraining.com
WE ALSO RUN CUSTOMISED COURSES ON A ONE TO ONE BASIS - please ring for details! Bookings are currently being taken for:
*Due to current social distancing guidelines our courses are running slightly differently to usual. Please ring or email for dates and availability
May/June 2022
Chainsaw maintenance and cross cutting.
Training and integrated assessment £245.
Optional professional assessment available £165.
Places available


May/June 2022
Maintenance, cross cutting and felling trees up to 380mm diam.
Training £445
Assessment £295
Places available


July 2022
FELLING AND PROCESSING TREES OVER 380mm diam
Training £395
Assessment £165
Places available


May/June 2022
Dealing with individual and multiple windblown trees course cost £395
Assessment cost £165
Places available


SITE UPDATED 11/5/2022
I will travel anywhere in the UK to deliver courses for 4 candidates. Travel expenses are 50p per mile.
Full equipment hire is available (everything from PPE to chainsaws and sharpening tools).
For more information please call Phil or Karen on 01490 460611 or 07891494341 or email phil@chainsawtraining.com