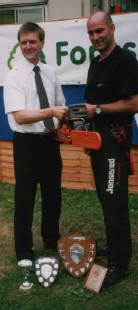 Chainsaw Competitions
British Chainsaw Championship
This annual chainsaw competition is open to all chainsaw operators in the UK. The aim of the competition is to promote the accurate, safe use of a chainsaw. This is done through a series of five scoring events:


Tree felling
Bar and chain changing
Combination bucking
Precision bucking
Limbing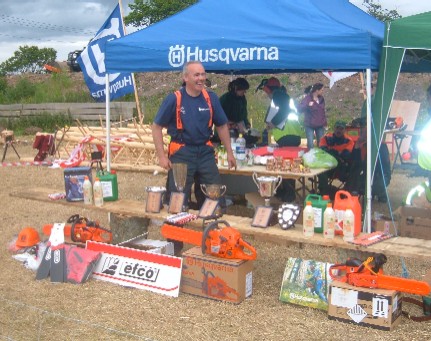 Prizes for the British Championship 2005
The results of this competition are used to select the team for the World Loggers' Competition which is held every two years in different countries. Competitors' ages range from 18 to 80 with all levels of experience represented from newly qualifies chainsaw operators to highly experienced loggers.
| | |
| --- | --- |
| | |
| Limbing event | Felling event |
The Royal Welsh Tree Felling Competition
This event is organised by the Royal Welsh Agricultural Society and is open to all chainsaw operators who live and work in Wales. Events are similar to those above but require a greater degree of strength and stamina.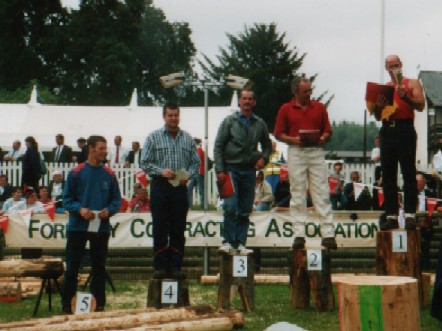 Prize giving for the Royal Welsh Champtionship 2002

COURSE AVAILABILITY
For more info contact Phil or Karen on:
Phone: 01490 460611
Mobile: 0789 149 4341
Email: phil@chainsawtraining.com
WE ALSO RUN CUSTOMISED COURSES ON A ONE TO ONE BASIS - please ring for details! Bookings are currently being taken for:
*Due to current social distancing guidelines our courses are running slightly differently to usual. Please ring or email for dates and availability
May/June 2022
Chainsaw maintenance and cross cutting.
Training and integrated assessment £245.
Optional professional assessment available £165.
Places available


May/June 2022
Maintenance, cross cutting and felling trees up to 380mm diam.
Training £445
Assessment £295
Places available


July 2022
FELLING AND PROCESSING TREES OVER 380mm diam
Training £395
Assessment £165
Places available


May/June 2022
Dealing with individual and multiple windblown trees course cost £395
Assessment cost £165
Places available


SITE UPDATED 11/5/2022
I will travel anywhere in the UK to deliver courses for 4 candidates. Travel expenses are 50p per mile.
Full equipment hire is available (everything from PPE to chainsaws and sharpening tools).
For more information please call Phil or Karen on 01490 460611 or 07891494341 or email phil@chainsawtraining.com