Certification and Assessment
Successful completion of either course will qualify the trainee for a LANTRA certificate of training (provided the required standard is met).
This is recognised by the Health and Safety Executive as adequate evidence of a chainsaw user having received appropriate training.
However, many employers (such as the forestry Commission, National Parks etc) and most insurance companies require a chainsaw operator to have an certificate of competence. This is gained by a rigorous assessment by an appointed assessor.
Following completion of one of my courses, assessment can be arranged.
The cost of assessment is


Basic chainsaw maintenance and cross-cutting
£125



Felling small trees, maintenance and cross-cutting
£225
We can also arrange assessment for the more advanced courses. Prices available on request.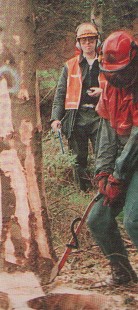 COURSE AVAILABILITY

REASONABLE LOCAL ACCOMMODATION AVAILABLE

If a course is provisionally full, then a place may become available - please ring 0789 149 4341 for further info


See course photos on Facebook - Phil Dunford Chainsaw Training

**PLEASE RING FOR CUSTOMISED COURSES!**

**ALL EQUIPMENT CAN BE HIRED IF NEEDED**

Bookings are currently being taken for:


10-14 Oct 2016
Maintenance, cross cutting and felling trees up to 380mm
Training only £395
Assessment 15 Oct £225
2 places available


24-28 Oct 2016
Maintenance, cross cutting and felling trees up to 380mm
Training only £395
Assessment 29 Oct £225
4 places available


2-4 Nov 2016
FELLING AND PROCESSING TREES OVER 380mm
Training only £350
Assessment £125
4 places available


31 Oct - 1 Nov 2016
2 day Lantra ITA Maintenance and Cross-Cutting
4 places available cost £195 each


Dates to be arranged
Dealing with individual and multiple windblown trees cost £375
Assessment cost £145
4 places available

SITE UPDATED 5-9-16

For more information please call Phil on

01490 460 611
phil@chainsawtraining.com
Denbighshire
Wales
United Kingdom

I will travel anywhere in the UK to deliver courses for 4 candidates. Travel expenses are 50p per mile.

Full equipment hire is available (everything from PPE to chainsaws and sharpening tools).