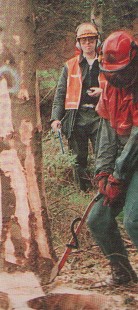 Certification and Assessment
Successful completion of either course will qualify the trainee for a LANTRA certificate of training (provided the required standard is met).
This is recognised by the Health and Safety Executive as adequate evidence of a chainsaw user having received appropriate training.
However, many employers (such as the forestry Commission, National Parks etc) and most insurance companies require a chainsaw operator to have an certificate of competence. This is gained by a rigorous assessment by an appointed assessor.
Following completion of one of my courses, assessment can be arranged.
The cost of assessment is


Basic chainsaw maintenance and cross-cutting
£135



Mainteance, cross cutting and felling trees up to 380mm diameter
£245


Felling trees over 380mm diameter
£135


Dealing with individual and multiple windblow trees
£145

COURSE AVAILABILITY
For more info contact Phil or Karen on:
Phone: 01490 460 611
Mobile: 0789 149 4341
Email: phil@chainsawtraining.com
WE ALSO RUN CUSTOMISED COURSES ON A ONE TO ONE BASIS - please ring for details! Bookings are currently being taken for:
SITE UPDATED 18-9-19
I will travel anywhere in the UK to deliver courses for 4 candidates. Travel expenses are 50p per mile.
Full equipment hire is available (everything from PPE to chainsaws and sharpening tools).
For more information please call Phil or Karen on 01490 460 611 or email phil@chainsawtraining.com