REFRESHER COURSES
These courses are available for candidates who already hold a valid chainsaw qualification, but who wish to refresh their skills. Some companies require their employees to update their skills after a length of time. HSE recommend a refresher course every 3 years for occasional users and 5 years for regular users.
Successful completion of a refresher course leads to a certificate of attendance.
Chainsaw Maintenance and Cross-Cutting (1 day) CLMC42R

Maintenance, Cross-Cutting & Felling Small Trees up to 380mm (15") Diameter (3 days) CLMC44R

Felling Small Trees up to 380mm (15") Diameter (2 days) CLMC43R

Felling trees over 380mm (15") Diameter (1 day) CLMC52R

Dealing with Individual and MultipleWindblown Trees (1 day) CLMC53R

Any combination of the above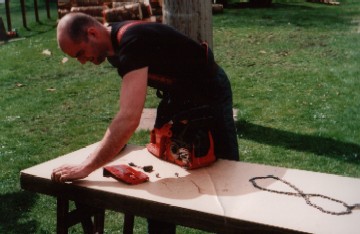 COURSE AVAILABILITY
For more info contact Phil or Karen on:
Phone: 01490 460611
Mobile: 0789 149 4341
Email: phil@chainsawtraining.com
WE ALSO RUN CUSTOMISED COURSES ON A ONE TO ONE BASIS - please ring for details! Bookings are currently being taken for:
SITE UPDATED 30-11-2023
I will travel anywhere in the UK to deliver courses for 4 candidates. Travel expenses are 70p per mile.
Full equipment hire is available (everything from PPE to chainsaws and sharpening tools).
For more information please call Phil or Karen on 01490 460611 or 07891494341 or email phil@chainsawtraining.com