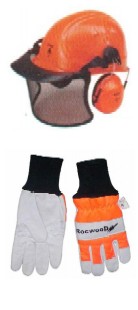 Equipment Needed for Courses
Chainsaw
Rear handled, max bar length 15" (37cm), must have the following safety features:


Combined chain break and front handle guard
Clearly marked 'off' switch
Chain with low kick back characteristics
Anti vibration mounts
Rear hand guard
Exhaust directed away form the operator
Chain catcher
Safety (dead handle) throttle trigger
Ear defender sticker
Guide bar cover
Personal Protective Equipment
European standards for chainsaw PPE are published as part of EN 381 Protective clothing for users of hand-held chainsaws. While no PPE can provide 100% protection against cuts from chainsaws, the following should be used:


Safety helmet (must not be older than manufacturer's replacement instructions)
Eye protection
Hearing protection
Leg protection (incorporating chain-clogging materials)
Protective boots with good grip and protective guarding at front vamp and instep
All PPE items should carry the CE chainsaw logo
Additional Equipment
Fuel/oil mixture and chain oil - in approved container
Personal first aid kit
Non-snag outer clothing
Operator manual for chainsaw
Basic maintenance tools (ie spanner, round files, flat file, file guide, feeler gauge, bar groove cleaner etc)
WATERPROOFS
PACKED LUNCH
Please note - chainsaws, PPE and equipment provided by participants must be of an acceptable standard and in good condition. Where possible, participants providing substandard or broken equipment will be issued with appropriate replacement items for which a charge will be made in addition to course fees.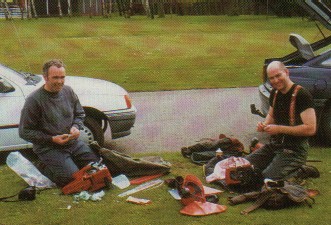 COURSE AVAILABILITY
For more info contact Phil or Karen on:
Phone: 01490 460611
Mobile: 0789 149 4341
Email: phil@chainsawtraining.com
WE ALSO RUN CUSTOMISED COURSES ON A ONE TO ONE BASIS - please ring for details! Bookings are currently being taken for:
*Due to current social distancing guidelines our courses are running slightly differently to usual. Please ring or email for dates and availability
May/June 2022
Chainsaw maintenance and cross cutting.
Training and integrated assessment £245.
Optional professional assessment available £165.
Places available


May/June 2022
Maintenance, cross cutting and felling trees up to 380mm diam.
Training £445
Assessment £295
Places available


July 2022
FELLING AND PROCESSING TREES OVER 380mm diam
Training £395
Assessment £165
Places available


May/June 2022
Dealing with individual and multiple windblown trees course cost £395
Assessment cost £165
Places available


SITE UPDATED 11/5/2022
I will travel anywhere in the UK to deliver courses for 4 candidates. Travel expenses are 50p per mile.
Full equipment hire is available (everything from PPE to chainsaws and sharpening tools).
For more information please call Phil or Karen on 01490 460611 or 07891494341 or email phil@chainsawtraining.com