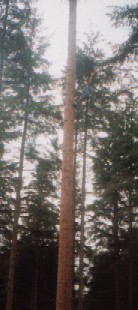 Clocaenog Forest and Hiraethog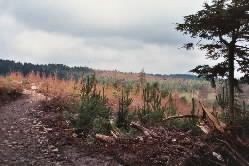 Situated south west of Ruthin, Denbighshire, North East Wales, the forest extends to over 6000 hectares (15000 acres). It is a productive working forest but with plenty of space for activities and quiet enjoyment. It is a hilly landscape, and there are many viewpoints with spectacular views across Snowdonia and the Berwyn Mountains.
Clocaenog Forest is famed for its wide selection of rare and endangered wildlife species being one of the last refuges for the Red Squirrel and Pine Martin. Black grouse, great grey shrikes, nightjars and crossbills are a few of the endangered bird species living in this forest.
It is an extensive area of coniferous forests. Species of trees are much more varied than is usual of forests of this nature with Norway Spruce, Pines and Larches forming significant elements of the crop. The structure is equally varied ranging from recently clear felled areas to fantastic stands of Spruce and pine over seventy years old.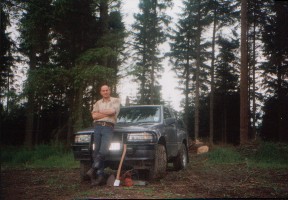 Mynydd Hiraethog translates as "The Hills of Great Loving". It is an extensive upland area with a broad rolling landscape. It is very quiet and as a result the forests are the home for Wales' remaining population of Red Squirrel and it is key area for the increasingly rare Black Grouse. The absence of traffic make the forests ideal locations for family holidays and day trips.
Mountain biking, husky racing and motor rallies are popular sports within the forest.

COURSE AVAILABILITY
For more info contact Phil or Karen on:
Phone: 01490 460 611
Mobile: 0789 149 4341
Email: phil@chainsawtraining.com
WE ALSO RUN CUSTOMISED COURSES ON A ONE TO ONE BASIS - please ring for details! Bookings are currently being taken for:
SITE UPDATED 4-9-18
I will travel anywhere in the UK to deliver courses for 4 candidates. Travel expenses are 50p per mile.
Full equipment hire is available (everything from PPE to chainsaws and sharpening tools).
For more information please call Phil or Karen on 01490 460 611 or email phil@chainsawtraining.com